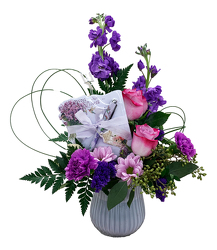 MD2 Mother's Love Arrangement
This charming mauve vase is filled with bright pink flowers and is a all round design. The design is filled with lilies, gerbera daisies, wax flower and mini carnations. Overall design is approx. 18"h X 11"w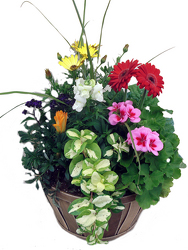 Basket of Spring Blooming Plants
This woven style basket is filled with aray of spring colors. A nice assortment of outdoor bloom annuals that will last all summer long. Enjoy indoors for awhile then plant in the garden. Please note that each basket is custom design at time of delivery so colors, plants and basket color will vary at time of delivery.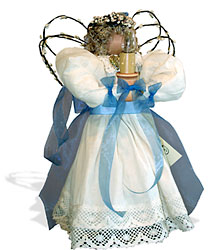 21801 Our Faithworks Angel
"Our Faithworks Angel" stands approx 12" to 13" tall. She is plain faced like an Amish doll. She is wearing a halo made out of grapevine wreath. Her dress is antique white muslim fabric with 2 rows of crocheted lace around the bottom hem of the dress. Her accent ribbons come in different colors.